You sure know that famous tool called Google? And most likely came to this article for her.
Whenever a page is public on the internet, search engines (Google, Bing, Yahoo, …) look for these pages to index and get displayed in their search results.
There are thousands of pages being published every day on the internet, how to know and make one page stay in front of another?
That's when the SEO ( Search Engine Optimization ) comes into action, as your translation already suggests, SEO is a optimization for search engines , nothing more than a set of techniques that influence search engine algorithms to better identify and define the position and importance of a page for a given search.
As these search algorithms are closed, it's not clear what metrics they consider when evaluating and ranking a page, so there are several SEO techniques available out there. So to perform an efficient optimization, it takes a lot of study, patience, a lot of trial and error.
Courses to Learn SEO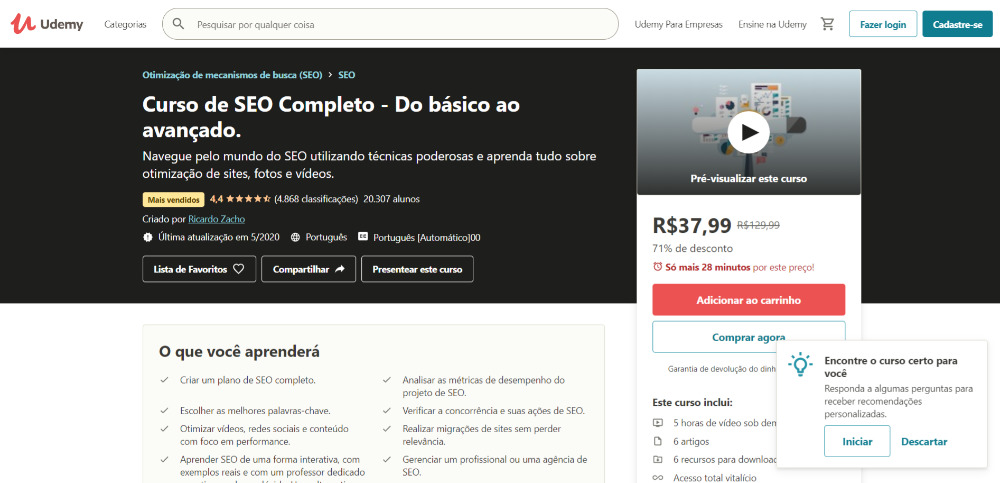 This SEO course is suitable for:
Who wants to deeply understand what SEO is and its applications.
Create performance-focused SEO actions.
Understand how to manage and charge other professionals.
Know how to assess the progress of the SEO project.
Understand which techniques are allowed, which techniques are prohibited, and which techniques have no effect.
How to do SEO in practice.
By learning the course, you will:
Understand how people search for products or services and thus understand the fundamental point for the success of their SEO actions.
With fluency in SEO techniques, several aspects and concepts of digital actions will be reinforced.
The logic used in the course will be used for other marketing actions. For, the analyzes will be based on the fundamental concepts of marketing.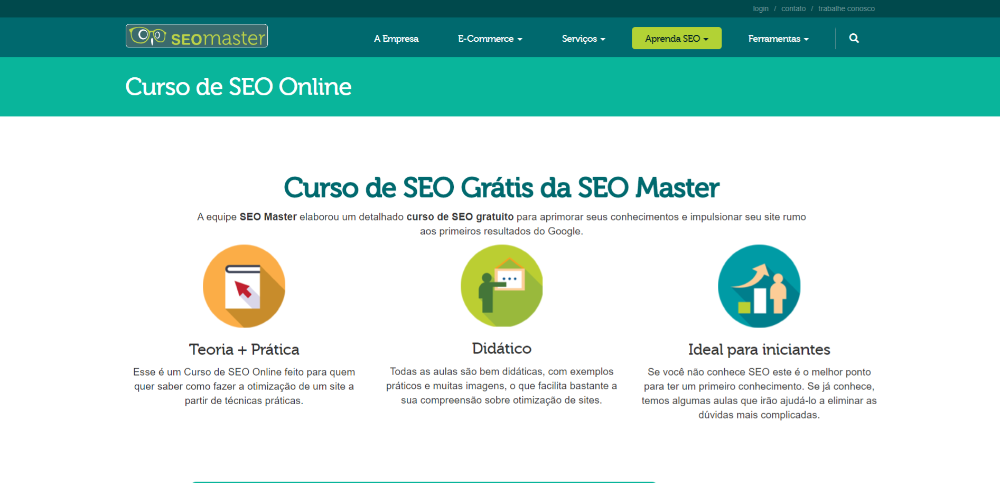 The team SEO Master elaborated a detailed free seo course to improve your knowledge and propel your site towards top Google results.
Theory + Practice: This is an Online SEO Course made for those who want to know how to optimize a website using practical techniques.
Didactic : All classes are very didactic, with practical examples and lots of images, which greatly facilitates your understanding of website optimization.
Ideal for beginners: If you don't know SEO this is the best point to have a first knowledge. If you already know, we have some classes that will help you to eliminate the most complicated doubts.
Search Engine Optimization (SEO) is a set of techniques applied internally and externally to a website so that it is better positioned in search results and is found by the right audience, at the right time, offering the best possible response. In a digital marketing strategy, it is important to be concerned with SEO to increase your website's organic traffic, generate leads, increase brand visibility and have a better position in the market. Companies that adopt good SEO practices can get up to 13 times more visitors and 5 times more customers compared to competitors that do not use this feature.
This course is for anyone who wants to be able to:
Understand the working logic and arrangement of information in search engines.
Identify the main organic ranking factors.
Analyze organic performance on blogs and create action plans for improvement.
Promote your blog on different digital channels.
THE Free Online SEO Course has been developed for all people who want to get started in the world of SEO (Search Engine Optimization) . This is a basic course for beginners.
In this course you will learn the basics of SEO, as well as understand how the main search engine works: Google. In addition, you'll see how to plan your content and website based on SEO concepts.
Course not entirely focused on SEO but has a very comprehensive module. Distributed by Google itself on its Ateliê Digital online course platform, it has modules dedicated to SEO and internet visibility, it's definitely worth checking it out.